Beers
Gulf Sour Series (Rotational Seasonal)
Unique and Laid Back
The Mississippi Gulf Coast offers a unique and laid back way of life. We aren't in a hurry. We wave to our neighbors. We'll share some blue crabs when our pots are full, and we always know the tide pattern. It's our way of life and we wouldn't change it for the world. This Gulf Sour Series is brewed to be our own take on sour beers with over the top fruit flavors, a pleasant hint of tart, and just a little bit of sweet to balance it all out. Enjoy these unique beers fresh while you share tales of the Gulf and the one that got away.


We try to keep our list of beers on tap current however, occasionally we sell out of a particular beer. If you are looking for a certain brew, please call ahead to the Pub to assure it is still available.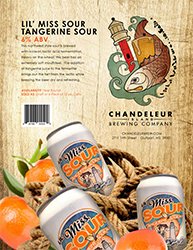 LIL' MISS SOUR TANGERINE SOUR
6% ABV
This northwest style sour is brewed with a clean lactic acid fermentation. Heavy on the wheat, this beer has an extremely soft mouthfeel. The addition of tangerine juice to the fermenter brings out the tart from the lactic while keeping the beer dry and refreshing.

AVAILABILITY: Year Round
SOLD AS: Draft or 4-Pack of 12 oz. Cans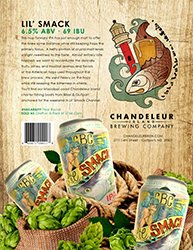 LIL' SMACK
6.5% ABV 69 IBU
This hop forward IPA has just enough malt to offer the brew some balance while still keeping hops the primary focus. A hefty portion of crystal malt lends a slight sweetness to the taste. Almost entirely late hopped, we want to accentuate the delicate fruity, piney, and tropical aromas and flavors of the American hops used throughout the brew process. We went heavy on the hops while still keeping the bitterness in check. You'll find our Mississippi coast Chandeleur Island charter fishing boats from Biloxi & Gulfport anchored for the weekend in Lil' Smack Channel.

AVAILABILITY: Year Round
SOLD AS: Draft or 6-Pack of 12 oz. Cans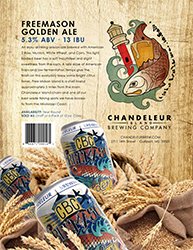 FREEMASON GOLDEN ALE
5.3% ABV 13 IBU
An easy drinking session ale brewed with American 2 Row, Munich, White Wheat, and Corn. This light bodied beer has a soft mouthfeel and slight sweetness from the corn. A late dose of American hops and low fermentation temps give the finish on this everyday brew some bright citrus tones. Free Mason Island is a shell island approximately 5 miles from the main Chandeleur Island chain and one of our best wade fishing spots we have access to from the Mississippi Coast.

AVAILABILITY: Year Round
SOLD AS: Draft or 6-Pack of 12 oz. Cans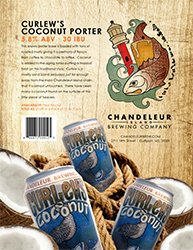 CURLEW'S COCONUT PORTER
5.8% ABV 30 IBU
This brown porter base is loaded with tons of roasted malts giving it a plethora of flavors from coffee to chocolate to toffee. Coconut is added to the aging tanks putting a tropical twist on this traditional style. Curlew is a mostly sand island secluded just far enough away from the main Chandeleur Island chain that it is almost untouched. There have been many a coconut found on the surfside of this little piece of heaven.

AVAILABILITY: Seasonal
SOLD AS: Draft or 6-Pack of 12 oz. Cans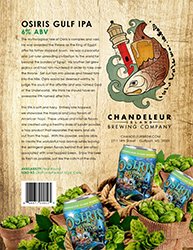 OSIRIS GULF IPA
6% ABV
The mythological tale of Osiris is complex and vast.He was awarded the throne as the King of Egypt after his father stepped down. He was a peaceful and just ruler spreading civilization to the world far beyond the borders of Egypt. His brother Set grew jealous and had him murdered in order to take over the throne. Set cut him into pieces and tossed him into the Nile. Osiris would be deemed worthy to judge the souls of the afterlife and was named God of the Underworld. We think he should have an awesome IPA named after him.

This IPA is soft and hazy. Entirely late hopped, we showcase the tropical and juicy flavors of American hops. These unique and intense flavors are created using a healthy dose of lupulin powder, a hop product that separates the resins and oils out from the hops. With this powder, we are able to create the wonderful hop aromas while leaving the astringent green flavors behind that are often associated with over hopped beers. Enjoy this beer as fresh as possible, just like the catch of the day.

AVAILABILITY: Year Round
SOLD AS: Draft or 6-Pack of 12 oz. Cans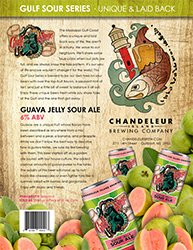 GUAVA JELLY SOUR ALE
6% ABV
Guavas are a unique fruit whose flavors have been described as anywhere from a mix between and a pear, a banana, and pineapple. While we don't know the best way to describe how a guava tastes, we sure do like brewing with them. This beer started off as a golden ale soured with our house culture. We added copious amounts of guava puree to the tanks. The acidity of this beer will stand up to rich foods like cheesecake or even lighter fare like a summer salad with berries and gorgonzola.Enjoy with music and friends.

AVAILABILITY: Seasonal
SOLD AS: Draft or 6-Pack of 12 oz. Cans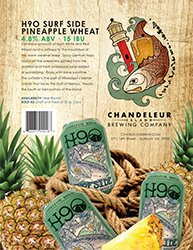 H9O SURF SIDE PINEAPPLE WHEAT
4.8% ABV 15 IBU
Generous amounts of both White and Red Wheat lend a softness to the mouthfeel of this warm weather brew. Spicy German hops round off the sweetness gained from the additional of fresh pineapple juice added at packaging. Enjoy with some sunshine. The surfside is the part of Mississippi's barrier islands that faces the Gulf of Mexico. Usually the South or East portion of the island.

AVAILABILITY: Year Round
SOLD AS: Draft or 6-Pack of 12 oz. Cans

Our Taproom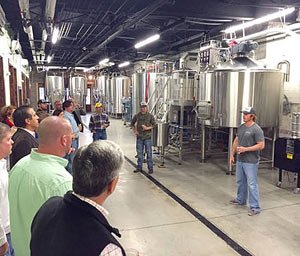 Chandeleur Brewery is an 8,000 sf historic building, located just blocks from the beach in downtown Gulfport, Mississippi. Our vision is to enhance the downtown resurgence by providing the perfect place for folks to cut up, listen to some good tunes, and (of course) learn about the art of hand-crafting beers.