Beers
Gulf Sour Series (Rotational Seasonal)
Unique and Laid Back
The Mississippi Gulf Coast offers a unique and laid back way of life. We aren't in a hurry. We wave to our neighbors. We'll share some blue crabs when our pots are full, and we always know the tide pattern. It's our way of life and we wouldn't change it for the world. This Gulf Sour Series is brewed to be our own take on sour beers with over the top fruit flavors, a pleasant hint of tart, and just a little bit of sweet to balance it all out. Enjoy these unique beers fresh while you share tales of the Gulf and the one that got away.


We try to keep our list of beers on tap current however, occasionally we sell out of a particular beer. If you are looking for a certain brew, please call ahead to the Pub to assure it is still available.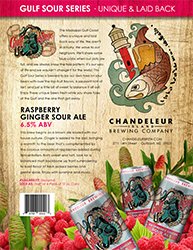 Rasberry Ginger Sour Ale
6.5% ABV
This brew begins as a brown ale soured with our house culture. Ginger is added to the boil, bringing a warmth to the beer that's complemented by the copious amounts of raspberries added during fermentation. Both sweet and tart, look for a balanced malt backbone up front surrendering to bold flavor of fresh picked berries and gentle spice. Enjoy with sunshine and music.

AVAILABILITY: Seasonal
SOLD AS: Draft or 4-Pack of 12 oz. Cans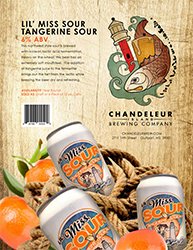 Lil' Miss Sour Tangerine Sour
6% ABV
This northwest style sour is brewed with a clean lactic acid fermentation. Heavy on the wheat, this beer has an extremely soft mouthfeel. The addition of tangerine juice to the fermenter brings out the tart from the lactic while keeping the beer dry and refreshing.

AVAILABILITY: Year Round
SOLD AS: Draft or 4-Pack of 12 oz. Cans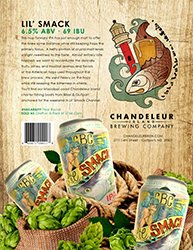 Lil' Smack
6.5% ABV 69 IBU
This hop forward IPA has just enough malt to offer the brew some balance while still keeping hops the primary focus. A hefty portion of crystal malt lends a slight sweetness to the taste. Almost entirely late hopped, we want to accentuate the delicate fruity, piney, and tropical aromas and flavors of the American hops used throughout the brew process. We went heavy on the hops while still keeping the bitterness in check. You'll find our Mississippi coast Chandeleur Island charter fishing boats from Biloxi & Gulfport anchored for the weekend in Lil' Smack Channel.

AVAILABILITY: Year Round
SOLD AS: Draft or 6-Pack of 12 oz. Cans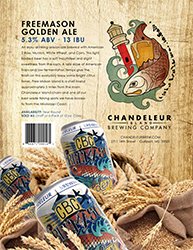 Freemason Golden Ale
5.3% ABV 13 IBU
An easy drinking session ale brewed with American 2 Row, Munich, White Wheat, and Corn. This light bodied beer has a soft mouthfeel and slight sweetness from the corn. A late dose of American hops and low fermentation temps give the finish on this everyday brew some bright citrus tones. Free Mason Island is a shell island approximately 5 miles from the main Chandeleur Island chain and one of our best wade fishing spots we have access to from the Mississippi Coast.

AVAILABILITY: Year Round
SOLD AS: Draft or 6-Pack of 12 oz. Cans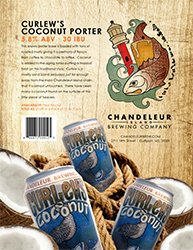 Curlew's Coconut Porter
5.8% ABV 30 IBU
This brown porter base is loaded with tons of roasted malts giving it a plethora of flavors from coffee to chocolate to toffee. Coconut is added to the aging tanks putting a tropical twist on this traditional style. Curlew is a mostly sand island secluded just far enough away from the main Chandeleur Island chain that it is almost untouched. There have been many a coconut found on the surfside of this little piece of heaven.

AVAILABILITY: Seasonal
SOLD AS: Draft or 6-Pack of 12 oz. Cans

Our Taproom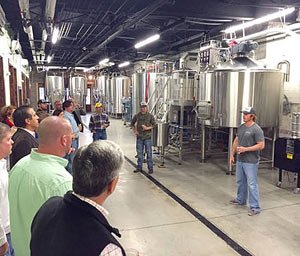 Chandeleur Brewery is an 8,000 sf historic building, located just blocks from the beach in downtown Gulfport, Mississippi. Our vision is to enhance the downtown resurgence by providing the perfect place for folks to cut up, listen to some good tunes, and (of course) learn about the art of hand-crafting beers.